Area51india – Prediksi Bola Napoli vs AS Roma. Pertandingan Serie A Liga Italia 2020-2021 antara yang akan berlangsung pada Senin (30/11/20) pukul 02.45 WIB dini hari. Jika tidak ada perubahan jadwal, pertandingan tersebut bisa disaksikan secara langsung di RCTI dan beIN Sports.
Napoli akan menjamu AS Roma di Stadion San Paolo dalam big match pekan ke-9 Serie A Liga Italia 2020/21. Ini adalah laga perjuangan untuk mendapatkan zona atas, yakni empat besar Serie A Liga Italia.
Roma atau Giallorossi yang berada di posisi tiga, bakal berjuang untuk mempertahankan peringkat tersebut, sedang Napoli atau Gli Azzurri yang masih berada di posisi enam, akan berjuang untuk bisa merangkak naik.
Diprediksi laga ini bakal berlangsung sengit, kedua tim saat ini hanya berselisih 3 poin. I Giallorossi berada di posisi ke-3 dengan mengemas 17 poin, hasil dari (5) menang, (2) seri dan (1) kalah.
Sementara itu Napoli memenangkan (5) pertandingan dan menelan (3) kekalahan dengan total 14 poin, saat ini di peringkat ke-6. Berdasarkan head to head (H2H) lima pertemuan terakhir, masing-masing tim memenangkan 2 pertandingan dan sekali seri. Insigne dan kolega menjebloskan 10 gol sementara Roma menelurkan 9 gol
Prediksi Susunan Pemain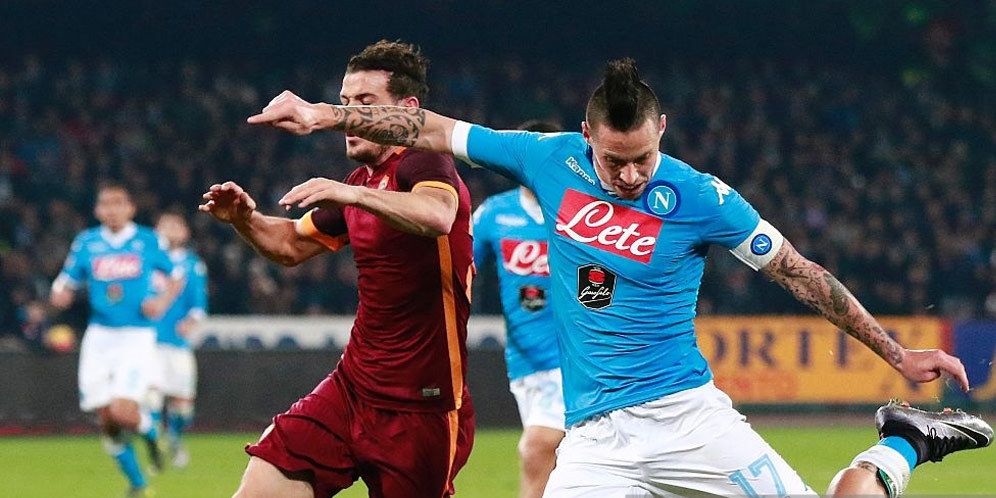 Napoli (4-2-3-1): Alex Meret; Giovanni Di Lorenzo, Kostas Manolas, Kalidou Koulibaly, Mario Rui; Fabian Ruiz, Diego Demme; Matteo Politano, Piotr Zielinski; Lorenzo Insigne; Dies Mertens
AS Roma (3-4-2-1): Antonio Mirante, Ibanez, Chris Smalling, Gianluca Mancini; Rick Karsdorp, Gonzalo Villar, Jordan Veretout, Leonardo Spinazzola; Pedro, Henrikh Mkhitaryan; Eden Dzeko
Head To Head Napoli vs AS Roma
06/07/20 – Napoli 2-1 AS Roma
02/11/19 – AS Roma 2-1 Napoli
31/03/19 – AS Roma 1-4 Napoli
29/10/18 – Napoli 1-1 AS Roma
04/03/18 – Napoli 2-4 AS Roma
5 Pertandingan Terakhir Napoli:
27/11/20 – Napoli 2-0 HNK Rijeka
23/11/20 – Napoli 1-3 AC Milan
09/11/20 – Bologna 0-1 Napoli
06/11/20 – HNK Rijeka 1-2 Napoli
02/11/20 – Napoli 0-2 Sassuolo
5 Pertandingan Terakhir AS Roma:
27/11/20 – CFR Cluj 0-2 AS Roma
22/11/20 – AS Roma 3-0 Parma
08/11/20 – Genoa 1-3 AS Roma
06/11/20 – AS Roma 5-0 CFR Cluj
02/11/20 – AS Roma 2-0 Fiorentina
Statistik dan Prediksi
Napoli: Hirving Lozano Musim ini, Hirving Lozano menjadi bomber tertajam Napoli dibanding striker lain seperti Dries Mertens atau Lorenzo Insigne. Lozano bisa menjadi momok bagi tim tamu yang sedang rapuh di lini pertahanannya.
AS Roma: Henrikh Mkhitaryan Henrikh Mkhitaryan membuktikan kepantasan dirinya gabung AS Roma. Sebagai gelandang, ia sudah banyak memberi kontribusi positif, khususnya musim ini. Salah satu contohnya adalah ia sukses mencetak hattrick saat Roma melawan Genoa pada Minggu (08/11/20).
Prediksi Napoli vs AS Roma: 1-3